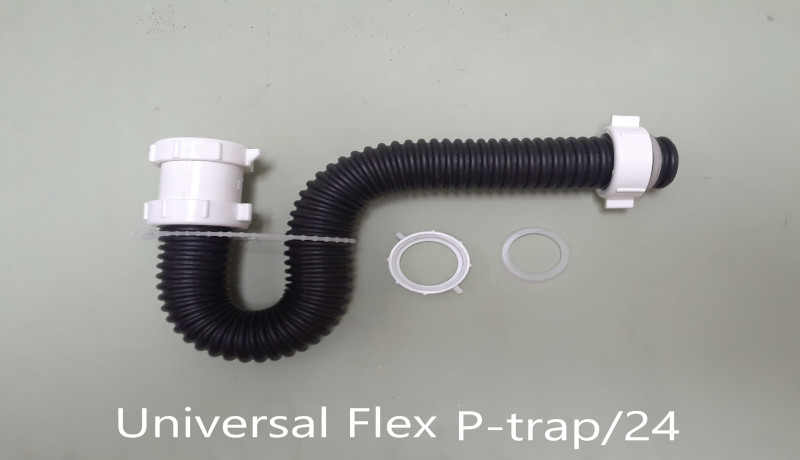 001. Universal Flex P-Trap/24
Flex P-trap is easy to install and adjustable to fit with all plumbing fixtures. Flex P-trap can be installed on kitchen sinks, bath sinks, and laundry sinks. The Universal Flex P- trap/24 has 24 inches length, so it can replace a regular p-trap (18 inches length), and 6 inches extension tube. Minimum water seal for Universal Flex P-trap/24 is 2 inches. If you have a special situation, (short P-trap) you need to cut the flexible tube to a specific length. The Flex P-trap/24 can also work like an extension tube for a regular p-trap, draining tube for shampoo bowl (if sink have tailpiece) and draining tube for garbage disposal. If you eliminate the coupling the Flex p-trap works like a connector tube. When using the Flex P-trap, the tensions (forces) from the plumbing line can be eliminated by pouring boiling water (hot water) and cold water down the Flex P-trap, once it is installed. By doing this, the cold water will stabilize the shape of the Flex P-trap and will align the plumbing line. The Flex P-trap is self-cleaning of hair.
To replace an old p-trap you can measure the length of the existing p-trap on the outside of the U shape with a string, and cut the tube to the length you need. If you don't have an old p-trap, measure the distance from the end of the tailpiece to the draining and add 10 inches (add one inch for safety) and cut the tube to the length you need.